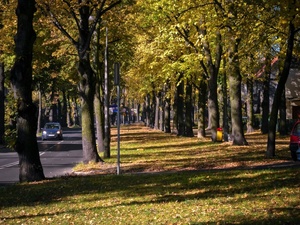 The Mickiewicz Avenue (formerly Gustav Freytag Avenue) is one of the most beautiful streets in Gliwice. There are four rows of lime trees, separating the road, an area of lawn and the pedestrian and cycle paths. For decades this avenue has been a place of an unmistakably unique atmosphere at all seasons. It is a place to relax not only for those living nearby, but for all residents of this neighbourhood. Together with the square "Plac Grundwaldzki" (formerly "Preußenplatz") and the street "ulica Sowinskiego" (formerly Lüderitzstraße) they form a unit – a Greenway of more than two kilometres. The avenue is a very popular place to walk for senior citizens and young families with their children. But also our four-legged friends feel here happy and contented. As of late, the avenue has even got a cycle path.
Unfortunately, the beauty and uniqueness of this avenue is now under threat. It all started a few months ago, when it became known that the municipal authorities intended to fell several dozens of the wonderful old lime trees in order to convert the green space in its middle into a car park. And this despite the fact that houses in that street are mostly detached houses and terraced houses with their own premises, where all residents can park their cars. The municipal authorities's plans have caused quite a stir among the residents of this neighbourhood, and they have organised their protest campaign by means of the internet and a web page set up explicitly for this purpose – www.ratujmy-lipy.eu –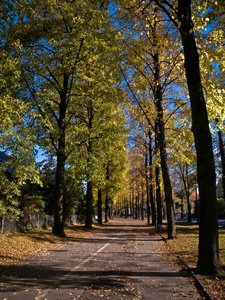 as well as a Facebook Fan Page und Fan Group (with meanwhile over 300 members). So far, about 1,000 signatures have been collected and filed with the municipal authorities. However, in spite of the intense media interest, the resident's pleas and petitions have been totally disregarded. What's worse, the municipal authorities have recently confessed that they intends to remove altogether the two rows of lime trees alongside the carriageway. This means that 127 trees are to be felled. Not one of them is to be replaced. Instead, there are plans to broaden the carriageway and even to build a bypass through this residential area. The municipal authorities are trying to justify this measure by specious arguments. Above all, they pretend that it is for safety reasons to the traffic. Besides, they indicate safety risks due to the fact that the trees are old and could fall any time. However, fully fledged biologists have proven that the trees are perfectly healthy. Lime trees are able to reach the age of 200 years, the lime trees along Mickiewicz Avenue are only 80 years old.
In the meantime, several architects, urbanists and biologists have joined our rescue campaign. They are all of the opinion that it is unnecessary and even detrimental to future urban development to fell the trees. Official police statistics show that there are hardly any accidents in this street. The trees even add to safety, because they incite drivers to slow down automatically. Besides, safety could be further enhanced by better marking of the trees and introduction of a 30 km/h zone (unfortunately not too common in Poland).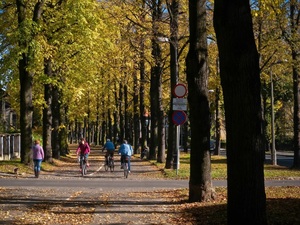 Moreover, the avenue has been part of a unique composition of urban planning. The planning dates back to the end of the 19th century and was initially based on an idea of the famous Vienna historian, painter, architect and urban planner Camillo Sitte. The town was supposed to be modelled like a work of art. It was popular in the first place in Great Britain to combine beauty and rationality. Later on, this trend found also its way to Germany. Thus, the appearance of, among others, this neighbourhood at Gliwice were mostly influenced by the famous architect Ernst May, who worked for the company "Silesian Home". It was his aim to make urban plans not according to a fashion changing year in and year out, but according to the rules of humanity. The Gliwice neighbourhood along Mickiewicz Avenue is a unique and brilliant example for urban planning following this spirit. And it should remain so, not only for those living here at present, but also, in view of its Europe-wide unique historical importance, for future generations.
For 80 years, these trees have brought great joy to people, and now, all of a sudden, they are to fall victim to the misguided shortsighted traffic policy of the current urban administration. Please help us and support our protest campaign.
This text only gives a short overview. If you are interested in further information or if you are interested in supporting us please contact as via e-mail at kontakt@ratujmy-lipy.eu.